PROTECTING PEOPLE, PROPERTY, ASSETS & BRANDS
OUR SECURITY SERVICES
Our full range of security services ensure your people, property, assets & brands stay protected
GUARDING, CONCIERGE AND RECEPTION SERVICES
Consortio Security specialises in managing and supplying high quality security services.
By combining training programmes that empower our personnel with an industry-leading benefits scheme, highly effective and motivational leadership, proven processes and procedures and our aim of continually seeking service improvement, as well as a comprehensive suite of management information, we generate exceptional levels of stakeholder satisfaction and peace of mind.
Audited for compliance with ISO 9001:2015 and the requirements of BS 10800:2020 - Provision of security services, BS 7499:2020 - Provision of static guarding security services and BS 7984-3:2020 - Provision of mobile security services, Consortio Security can be trusted to provide complete peace and mind for our clients and their stakeholders.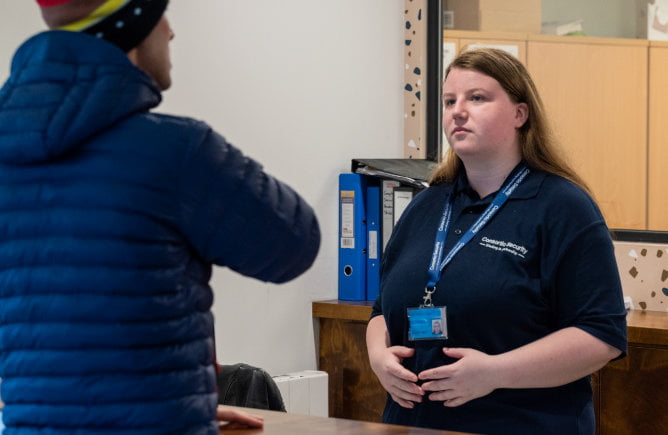 FURTHER SECURITY SERVICES
Key holding, alarm response, mobile patrols and vacant property inspections.
For those clients requiring a visual deterrent to anti-social and illegal activity, Consortio Security's mobile security response services operate 24/7/365 to deliver;
INCLUDING ALARM AND EMERGENCY RESPONSE.
We understand that your staff cannot always be on call. Our key holding services give you the peace of mind that your business is always protected.
PROVIDED BY OUR TRAINED SECURITY STAFF.
At Consortio Security, our scheduled locks / unlocks service remove this responsibility from staff members to help secure your business.
PROVIDING A HIGHLY EFFECTIVE DETERRENT.
Experienced security personnel deployed in highly visible, liveried and tracked vehicles will carry out internal and external patrols of your sites.
FIXED DURATION SECURITY SUPPORT.
At Consortio Security, we'll provide your business and premises with security services to keep your property, assets and staff safe.
VACANT PROPERTY INSPECTIONS
IDENTIFYING THREATS AND HAZARDS.
Experienced security personnel deployed in highly visible, liveried and tracked vehicles, carrying out internal and external patrol routes of sites provide a highly effective deterrent to criminal or damaging incidents. They also identify threats/hazards such as fire, flood and other Health and Safety risks, whilst accurate and highly informative management information allows risks and threats to be understood and negated for complete peace of mind.