PROTECTING PEOPLE, PROPERTY, ASSETS & BRANDS
SECTORS WE SERVE
We work closely with public, commercial and educational sectors to provide security services throughout the UK.
OUR SECTORS
We manage highly effective security solutions across a wide range of industries, with true expertise in a number of sectors.
STUDENT ACCOMMODATION
Working extensively with many of the large owners and operators of purpose-built student accommodation, we have created a service that does more than protect people and property.
Ours is a support function; we empower our Officers to act on your behalf in your absence. The attitude and actions of our Officers allow us to meet the residents, where they need us, when they need us, and in a professional way.
EXPAND TEXT
By knowing what to listen for, how to listen helpfully and how to escalate, we support residents to maximise their peace of mind, contributing towards their wellbeing and a positive educational experience.
For the student accommodation sector, our approach is consistent: we provide a service that results in peace of mind and reassurance for residents, their guardians, the management and the owners of the development, aiding organisations to ensure their residents feel safe, and are safe.
Find out more about our experience and unique approach to this sector:
REDUCE TEXT
EDUCATION
From the provision of key holding, alarm monitoring and alarm activation response services to primary schools through to a guarding presence on University campuses.
Consortio Security's service protects property and provides reassurance for staff, pupils and students alike. Working in partnership with our clients, we ensure that our service is sustainable, cost-effective and continually evolving to meet emerging establishment needs and objectives.
EXPAND TEXT
Find out more about our experience and unique approach to this sector:
REDUCE TEXT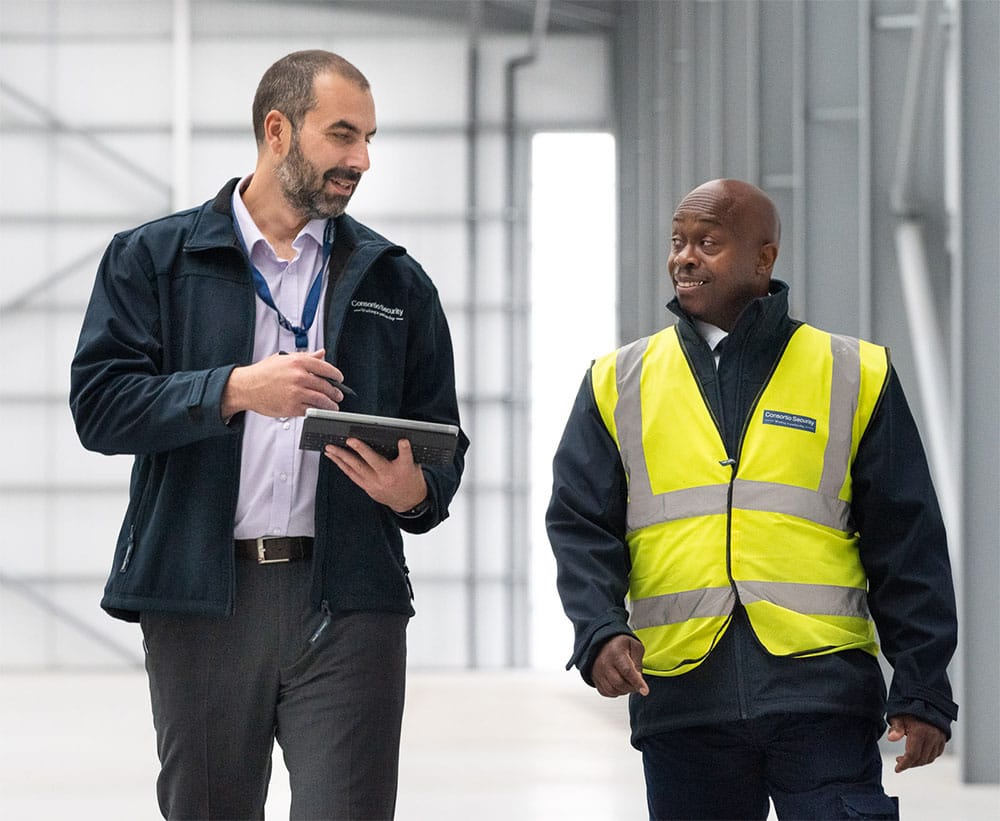 LOGISTICS & MANUFACTURING
'Consortio' is Latin for Partnership. We share our ideas and develop strategies that enhance our working relationships to ensure our clients' needs and requirements are continuously met, resulting in enduring benefits.
This approach has proven extremely beneficial for our clients within the logistics and manufacturing sectors for whom we provide a holistic security service. Our highly experienced management team will identify the breadth of risks and threats present within an operation and present a solution combining one or more elements of guarding, reception, technology, response and monitoring that continually adapts to meet and mitigate those evolving challenges.
EXPAND TEXT
Those solutions will be delivered by teams of motivated, skilled and flexible personnel who will be further empowered through their utilisation of both trusted and emerging security technology to deliver tailored services that result in transparency, enduring confidence and ever-increasing value for money.
Find out more about our experience and unique approach to this sector:
REDUCE TEXT
PROPERTY MANAGEMENT
Consortio Security works with many of the world's best known and most highly respected businesses in the corporate and property management sector to create a holistic service with the flexibility and range of solutions to truly fulfil your short, medium and long-term security and operational objectives.
Our highly experienced leadership manages teams of high-performing, highly motivated personnel. Those personnel are empowered by their participation in one of the industry's most comprehensive training programme and their utilisation of both trusted and emerging technology
EXPAND TEXT
These factors combine to create truly bespoke services that mitigate the range of risks and threats to business in modern society, contributing to your operational effectiveness and enhancing your business culture.
Find out more about our experience and unique approach to this sector:
REDUCE TEXT